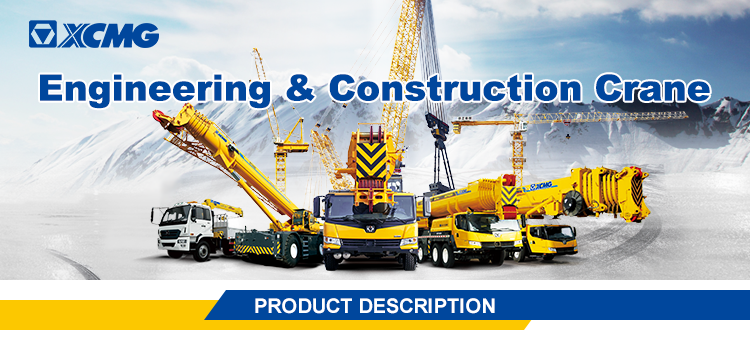 XCMG QY50KA Truck Crane.

The optimizing layout of the machine makes the stress of the main bearing carriers more reasonable, and the lifting performance is higher than the products with the same tonnage.

Optimize the stress design. Adopt the box-type outriggers which have larger span, stronger rigidity, and better stability.

The new power steering mechanism adopts hydraulic power design, which makes the steering light, flexible, and precise, and ensures the safety of the truck. The intensity and rigidity of the rotary table and frame structure with high rigidity are completely coordinated.

The high efficient and energy efficient load sensing hydraulic system is sensitive to operate and precise to control, having good slight mobility. Optimize the control levers, which is easier to operate.
.Main Technical Data Table in Travel configuration
Description

Unit

Parameter value

Overall length

mm

13930

Overall width

mm

2780

Overall Height

mm

3630

Axle base

1st ,2nd axle

mm

1470

2nd ,3rd axle

4300

3rd ,4th axle

1350

Wheel Base

mm

2304+2075

Front overhang/rear overhang

mm

2389/2064or 2376/2064

Front extension/rear extension

mm

2131/226 or 2144/226

Total vehicle mass in travel configuration

kg

42200

Axle load

Front axle

kg

16200

Rear axle

26000

Engine Model

WD615.338

Engine rated power

kw/(r/min)

276/2200

Engine rated torque

N.m/(r/min)

1500/1300-1600

Max. travel speed

km/h

85

Min. steady travel speed

km/h

2~3

Min. turning diameter

m

24

Min. ground clearance

mm

327

Max. grade ability

%

42

Approach angle

°

19

Departure angle

°

15

Braking distance (at 30 km/h, full load )

m

≤10

Oil consumption per 100km

L

40

Exterior noise level during acceleration traveling

dB (A)

≤88

Noise level at seated position

dB (A)

≤90
.Main Technical Data Table for Lifting Operation
Description
Unit
Parameter value

Max. total rated lifting capacity

t

50

Min. rated working radius

m

3

Turning radius at turntable tail

mm

3800

Max. load moment

Base boom

KN.m

2009

Fully-extended boom

1129

Outrigger span

Longitudinal

m

6.1

Lateral

7.1

Hoist height

Base boom

m

11.9

Fully-extended boom

44

Fully-extended boom + Jib

58.1

Boom length

Base boom

m

11.4

Fully-extended boom

43.5

Fully-extended boom + Jib

59.5

Jib offset angle

°

0, 15, 30

Time for boom raising

s

≤40

Time for boom extending fully

s

≤90

Max. slewing speed

r/min

≥2.0

Outrigger extending and retracting time

Outrigger

Extending

s

≤35

Simultaneously

Retracting

≤30

Simultaneously

Outrigger

Extending

≤40

Simultaneously

Retracting

≤35

Simultaneously

Hoisting speed

Main winch

No load

m/min

≥130

(single line

Auxiliary winch

No load

≥130

Exterior noise level

dB (A)

≤118

Noise level at seated position

dB (A)

≤90