INI 2.5 ton winch hydraulic truck winch two 2 speed winch
Free fall winch is our patent product.
This series hydraulic winches consist of planetary gearbox, hydraulic motor, wet type brake, valve block, drum, frame and hydraulic control clutch.
The winches can get two speed if fitted with variable displacement hydraulic motor.
When fitted with hydraulic axial piston motor, the working pressure and power can be greatly improved.
The final stage of the series is fitted with a hydraulic clutch to get free fall function when the hook is empty. So the working efficiency can be improved.
1. Safe and reliable performance
2. high starting& working efficiency
3. Reliable operation with little noise
4. long lifetime
5. Low maintenance relieves your anxiety
Application
They can be used to pull salvage vehicles, cross country vehicles, military heavy trucks and bulldozers which are damaged or stuck in mud and they can be used for self recovery.
Outline drawing of 30 ton hydraulic recovery winch/truck winch

Specification (can be revised to meet customer's specific needs.)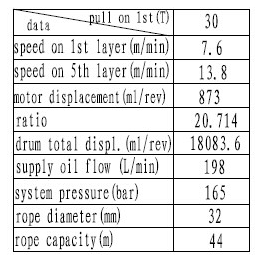 Features
1 Heavy duty high torque hydraulic motor.
2 Extremely watertight with good quality internal seal.
3 Free spooling clutch-Rotation (normal manual clutch).
4 Compact structure, easy for mounting by two angle bar.
5 Fast line speed provide high efficiency for recovery
6 With cable tensioner
7 Integrated mechanical brake.
8 Winch can be mounted on wrecker, recovery truck, or other vehicles
Performance
Rated line pull (1st layer)

KN / kgs / lbs

39/ 4000 / 9000

Motor displacement

ml/rev

80

Oil flow

L/min

15-60

Oil pressure

MPa

14

Gear ratio

23:1

Wire rope (diameter x length)

Φ

11mm x 25metre

Drum dimensions (diameter x length)

mm

Φ

88 x

Φ

192 x 200

Mounting dimension and bolts

300mm x 280mm 8-M12

Overall dimension

mm

516(524) x 316(376) x 237

Net weight (with wire rope and hook)

kg

48
Line pull, oil pressure and oil flow, line speed
| | | | |
| --- | --- | --- | --- |
| Line pull (KN) | Oil pressure (Mpa) | Oil flow (L/min) | Speed (m/min) |
| 0 | 3.5 | 15 | 2.5 |
| 27 | 8.5 | 25 | 4.0 |
| 36 | 11.0 | 40 | 6.5 |
| 39 | 14.0 | 50 | 8.0 |
| 49 | 15.0 | 60 | 9.5 |
Layer of calbe, line pull per layer, speed and wire rope capacity
| | | | |
| --- | --- | --- | --- |
| Layer of cable | Line pull (KN) | Speed (m/min) | Wire rope capacity |
| 1 | 39 | 9.5 | 5 |
| 2 | 34 | 11.8 | 12 |
| 3 | 28 | 13.9 | 19 |
| 4 | 25 | 16.0 | 25 |
Certification