Winch as a large deck machinery on the ship / platform, to towing, anchoring. The drum can free.
Clutch operated by lever. Hand brake on drum.
electric single drum free fall hand brake marine winch for pile driver or lifting on boat as marine winch, with clutch, ratchetratchet pawl.
This series winch mostly are applicable for free fall rushing hole and pilling. Characteristic of this winch is that its rope roll are could pull out.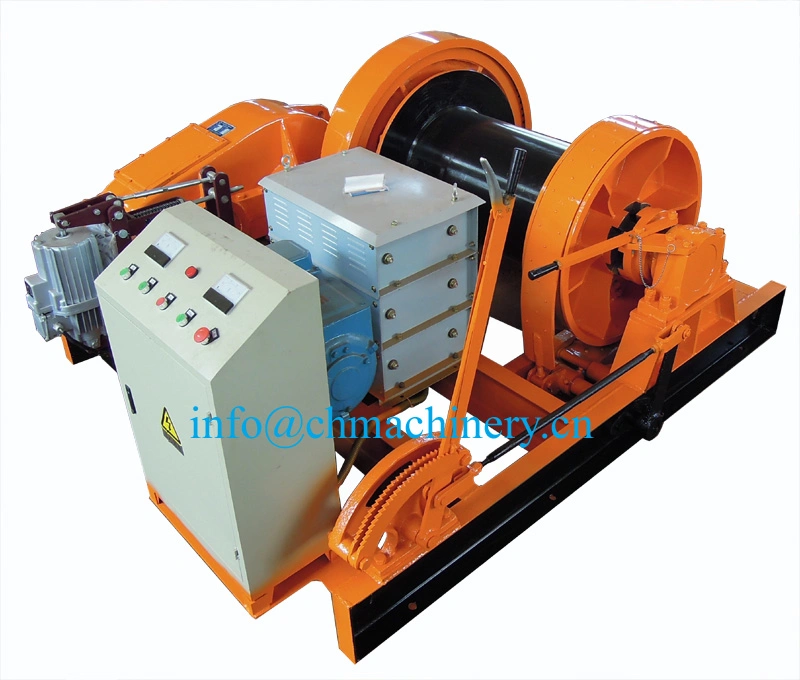 Model
JM2
JM3
JM5
JM8
JM10
Line pull capacity (kg)
2000
3000
5000
8000
10000
average speed (m/min)
12
10
10
10
9
Wire rope(mm):
12.5
15.5
21.5
26
30
Reduction box
Type
JZQ350
JZQ350
JZQ400
JZQ500
JZQ650
Transmission ratio
23.34
31.5
23.34
31.5
40.17
Drum (mm)
Diameter/mm
273
325
406
500
550
Length
480
520
645
900
1000
Capacity(m)
150
180
250
300
350
motor
Type
YZ160M2-6
YZ160M2-6
YZ160L-6
YZR225M-8
YZR250M1-8
Power(kW)
7.5
7.5
11
22
30
Rotate speed(r/min)
948
948
953
720
720
Hydraulic Brake
YWZ-200/25
YWZ-200/25
YWZ-300/45
YWZ-300/45
YWZ-300
Equipment Dimension (mm)
1060x1500x750
1600x1100x820
1400x1910x950
2050x1640x1000
2470x2280x1180
Weight(kg)
630
680
1400
3000
4000