Marine Shipyard Using Floor Foot Mounted 1Ton 3 ton 5t Electric Jib Crane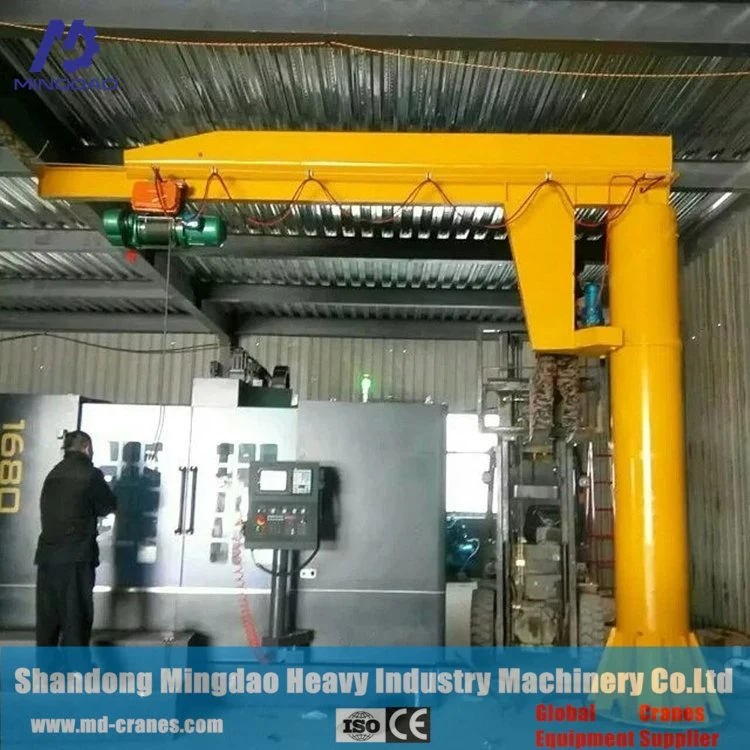 The QB model series floor mounted jib cranes are designed and constructed for industrial use . The jib crane boom is
fabricated out of a steel "S" or "W" shaped I beam and have removable end stops. A machined lower roller carriage is
housed in the jib crane head section which feature heavy steel side plates.The lower roller carriage is mounted on adjustable
tension bolts to allow 360 dgree field adjustments. The support column for the jib crane is constructed out of steel pipe with
a heavy base plate and reinforcing gussets. This type jib crane can be used both indoor and outdoor places.
It can be operated under three-dimensional environment by pendent push button or remote controller.
Compared to other
lifting device, it is superior especially in the case of short-distance and concentrated lifting.
Type
BZ0.25
BZ0.5
BZ1
BZ2
BZ3
BZ5
BZ8
BZ10
Lift Capacity (t)
0.25
0.5
1
2
3
5
8
10
Max. Lift Height(m)
3
3
3
3
4
4
6
8
Slew Angle(0)
360
360
360
360
360
360
360
360
Lift Speed (m/min)
Normal
4;10;8
5;10;8
8
8
8
8
8
8
Slow
1;2.5;0.8
1.25;2.5
0.8
0.8
0.8
0.8
0.8
0.8
Level Travel Speed (m/min)
20
20
20
20
20
20
20
20
Slewing Speed (r/min)
0.7
0.7
0.7
0.7
0.6
0.6
0.6
0.6
Lift mechanism
wire rope electric hoist or chain electric hoist
Power supply
380-420V/3phase/50hz or customized
Control mode
Pendent push button control or remote control
Above parameter just for your reference,jib crane can be customized design Max.20t according to your demands.
Product Details: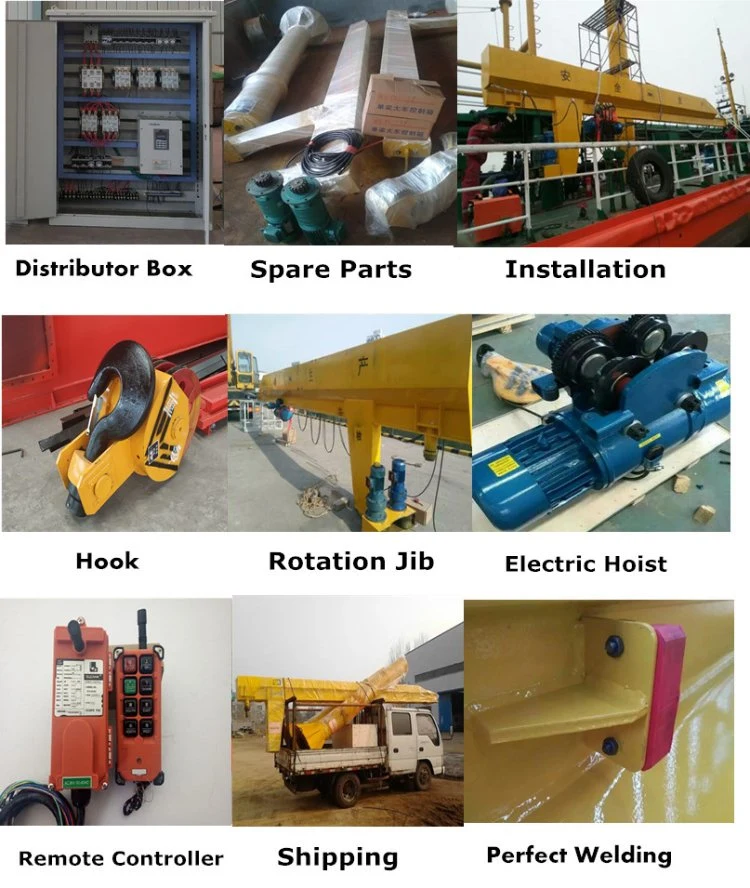 FAQ:
1.Can the cranes be customized?
Yes,every customer's working condition is different, all of our products can be customized depend on customers' requirements. Please give us the information as clear as you can, so we can give our best design to suit for your demands.
2.How many operation methods for my selections?
We provide pendent controller with push button control type, remote control type or cabin control type.Please tell us what kind of operation way you need.
4.I have low headroom in my workshop, is it possible to install a crane in it?
We have special products for low headroom workshop, our engineer can give the best design according to your dimensions.
5.Do you supply lift tools?
Yes, we can provide any kind of lifting tools such as hook, electromagnetic, grab bucket etc...
6.In order to offer the most suitable design solution for you, it will be great helpful if you can offer us the following information to us:
1. Lifting capacity.
2. Span length.(rail center to rail center)
3. Lifting height.(hook center to ground)
4. Have you installed the rails? Do you need us to supply the rails? How long is it?
5. Power supply: Voltage.
6. Working condition: what kind of material to lift? temperature?
7. It would be much better if it is possible for you to offer the drawing photo of your workshop.
Mingdao Company Certificates:
We are a member of China Lifting Industry Association, safety-recognized enterprise, national crane machinery designated production organizations, we have obtained mechanical engineering "design certificate", and the national issued crane "manufacturing permit",installation and maintenance, renovation and maintenance of the "License" and so on.
In the past 10 years, we are aiming at China domestic market and become a leading manufacturer in China. Also, with the help of China trading companies we have exported our products to many countries such as Vietnam, Philippines, Sri Lanka, Bangladesh, France, Dubai, Kazakhstan, Russia, Tanzania ,Peru , Newzealand,etc countries . We got 99% good feedback from the overseas customers.
Now we are not only aiming at China domestic market growth ,but also to expand the international market with our quality and price advantages. Send us an inquiry now.
The company has six functional departments, including R&D department, sales department, materials supply department, production department, QC department,after-sales department. There are 16 workshops including electrical, riveting, forging, assembly, heat treatment, machining and maintenance.
Our company produces various lifting equipment and loading and unloading. The equipment is 30,000 tons and the sales income is 360 million yuan. 18 offices and 76 sales and service agencies in power plants, industrial and mining enterprises, and port terminals.
Integrity, quality, customer satisfaction is the pursuit of Mingdao heavy workers!